Science and technology innovations drive high-quality development
Editor's note: Over the past decade, China has made great accomplishments while navigating through a tumultuous global environment. As the 20th Communist Party of China National Congress approaches, CGTN First Voice has prepared a 10-part series titled "The China Path: A Panoramic Decoding" to take you through the landmarks and watershed events over the past ten years and decode the secret of China's development. This is part seven of the series, focusing on the China's technological advancements.
I'm a 5-year-old that is 1.3 meters tall and weighs 63 kilograms. I'm light-hearted. I like jogging and doing Tai Chi, and am particularly good at Chinese chess, calligraphy and drawing. I've worked in many roles such as an event host, a dancer, a docent, etc.
Sounds like a prodigy, right? Well, no. This is the self-introduction of a robot. In 2021, Walker X, a robot that can run, play Chinese chess, and interact with people, debut at the 4th World Artificial Intelligence Conference and immediately became the center of attention. Pivotal to the development of advanced manufacturing and the transformation of human lifestyles, robotics is an area where research and development (R&D) projects are getting rolled out at full steam by tech companies around the world these days. While a robot that can mimic basic human movements needs to be powered by at least 20 to 30 servo motors, Walker X is equipped with 41 high-performance Chinese-made servos that allow it to perform more complex tasks such as playing Chinese chess, calligraphy and drawing.
Science and technology innovations are always at the foundation of China's development and the growth of its national strength. The "Two Bombs, One Satellite" project, the BeiDou Navigation Satellite System and Lunar Exploration Program have all translated to the country's hard power; hybrid rice, the development of new drugs and the high-speed rail network have helped to raise people's living standards; and domestically manufactured mobile phones, the 5G network and breakthroughs in areas such as quantum information have shown to the world China's creativity and R&D capabilities.
In 2021, China became the world's second largest R&D spender with a total R&D expenditure of 2.44 percent of its GDP, and 6.09 percent of such spending going to basic research, marking a year-on-year growth of 15.6 percent. Meanwhile, the turnover of China's technology contracts exceeded 3.7 trillion yuan and the number of its domestic patents granted and of international patents filed under the Patent Cooperation Treaty ranked first worldwide. Moreover, China also leads the world in terms of the numbers of its internationally published science and technology related papers and citations. All of these, together with nearly $980 billion worth of high-tech product exports, have made China a science and technology backbone for the world.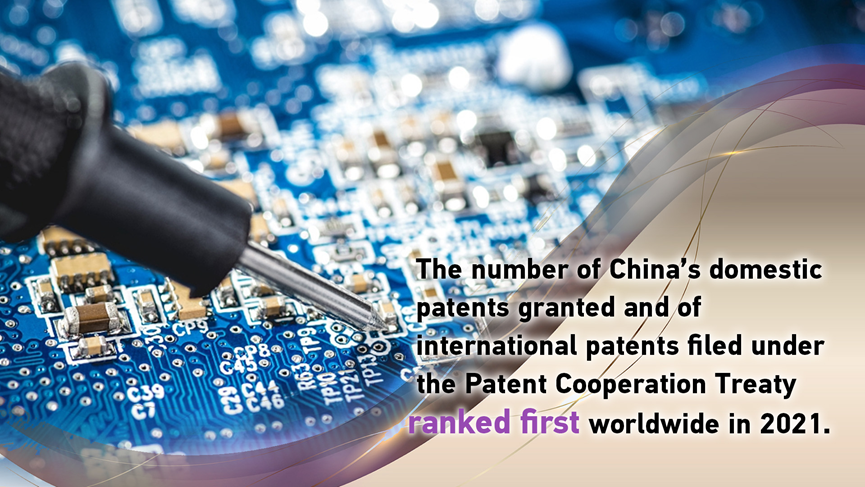 The 14th Five-Year Plan for National Economic and Social Development and the Long-Range Objectives Through the Year 2035, adopted at the Fifth Plenary Session of the 19th Central Committee of the Communist Party of China (CPC), both make science and technology independence and development the top priority. Crucial and core technologies cannot be truly acquired through waiting or purchasing from others.
They are only obtainable through independent R&D activities and continued investments.
Since the 18th CPC National Congress, the central government has promoted science and technology innovations and introducing relevant policies at a scale never witnessed before, which is an important reason behind the country's robust science and technology advancements for the past decade. A case in point is the success of the city of Lianyungang in Jiangsu Province. Over these years, the city achieved many firsts, both globally and domestically. The world's longest wind turbine blade and first set of 8.8-meter intelligent mining scraper conveyors were manufactured in Lianyungang, and the city was also where China's first independently developed 10,000-ton carbon fiber production line was installed and more than 20 new drugs were developed. Thanks to favorable policies, 449 high- and new-technology companies had been established in Lianyungang by 2021, 10 times the number in 2012. In the Global Innovation Index released by the World Intellectual Property Organization, China's ranking rose to the 12th in 2021 from the 34th in 2012.
So far, China has established science and technology partnerships with over 160 countries and regions and is a member of more than 200 international organizations and multilateral mechanisms. Meanwhile, China also participates in a number of international science programs and projects, such as ITER、GEO、SKA, exchanging ideas in areas including health, climate change, clean energy, artificial intelligence, biomedicine and modern agriculture with global partners, and offering China's technological solutions to global issues.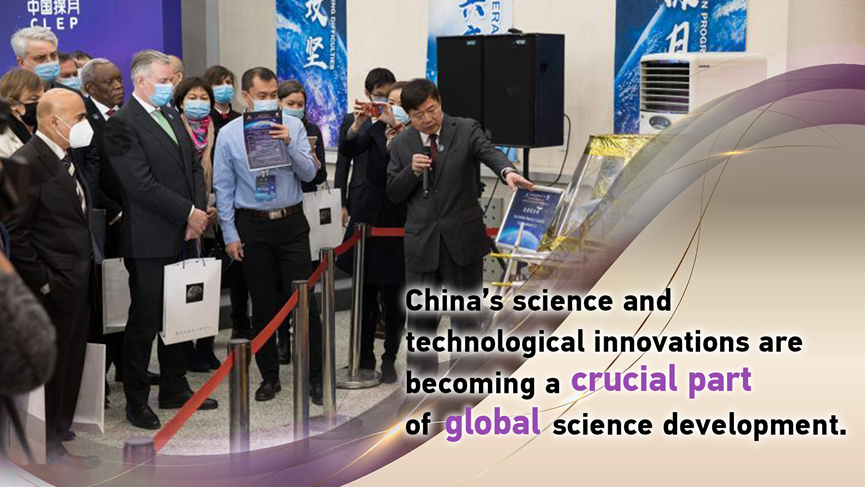 The advent of products such as Walker X represents an accelerated integration of emerging technologies into people's life in China. The scaling of the 5G network and the widespread use of smartphones have driven everyday life online, making mobile payments, mobile car-hailing and mobile information submission indispensable for almost everyone. Progresses in this regard have made China stand out above other countries and to emerge as the most powerful engine for high-quality national development.
According to statistics from the Ministry of Industry and Information Technology, during the ten years between 2012 and 2021, the size of China's digital economy increased from 11 to 45 trillion yuan and its share in national GDP rose from 21.6 percent to 39.8 percent. In spite of external factors such as the COVID-19 pandemic, the recent years have seen digital technology uninterruptedly transforming traditional industries, as well as facilitating innovations. As online shopping flourishes, new business models such as live commerce, online education, remote medical consultations and remote work are mushrooming.
Additionally, digitalization picks up pace in all social sectors and traditional industries are increasingly digitalized, networkized and intelligentized. According to the 2021 Report on China's Internet Development, the country's digital industrialization had hit 7.5 trillion yuan in scale, spawning new industries and business models, and working its way into the high-end global industrial chain. Accordingly, industrial digitalization continues to speed up, reaching 31.7 trillion yuan, and digitalization keeps levelling up in industry, agriculture, and services.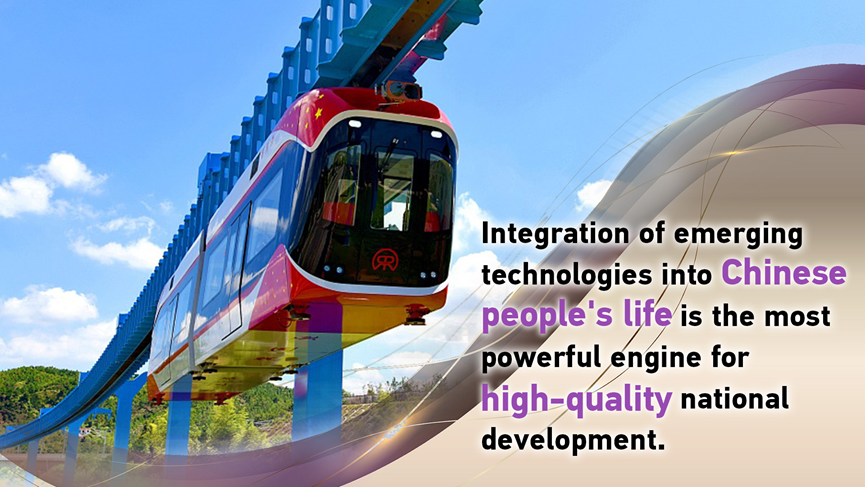 Walker X is but a manifestation of China's soaring technological advancements. Innovation is the primary driver for development. In the past decade, with great prominence given to innovation, science and technology in China are surging ahead at a speed never seen before and getting integrated into people's lives to an unprecedented degree. Hence, the methods of production, people's lifestyles and the ways economy functions are undergoing profound changes.
In the future, science and technology innovations can help China secure its leading role in the digital and technological era and to enable the country to usher in more benefits to its own people and others across the world.
Link to publication on CGTN Opinions: https://news.cgtn.com/news/2022-10-05/Science-and-technology-innovations-drive-high-quality-development-1dQLoTysIms/index.html