Deciphering China's green growth miracle
Editor's note: Over the past decade, China has made great accomplishments while navigating through a tumultuous global environment. As the 20th Communist Party of China National Congress approaches, CGTN First Voice has prepared a 10-part series titled "The China Path: A Panoramic Decoding" to take you through the landmarks and watershed events over the past 10 years and decode the secret of China's development. This is part three of the series, focusing on China's efforts in improving the environment.
Beijing's PM2.5 concentration during the 2022 Winter Olympics was 24 µg/m3 on average. In particular, its average daily level dropped to a staggering low of 5 µg/m3 on the day of the opening ceremony. The "Beijing blue", a spectacular background to the Winter Games, was widely acclaimed both domestically and internationally.
Beijing's green Winter Games stood tall as a shining manifestation of the Beautiful China Initiative. Political leaders of many countries have praised the remarkable achievements with the nation's efforts in building an ecological civilization, seeing China's green development practices as a role model for other countries to forge a harmonious relationship with nature. Former Under-Secretary-General of the United Nations (UN) and UN Environment Executive Director Erik Solheim said the progress of China's green development has been so "inspiring".
Nonetheless, China's environmental situation was worrying just a decade ago.
Back then, the country's soaring economy and urban expansion took a heavy toll on its environment: The concentration of particulate matters far exceeded the recommendation of the World Health Organization. According to statistics from RAND Corporation, during the period between 2000 and 2010, health issues and a loss of workforce caused by air pollution cost China 6.5 percent of its GDP each year.
What is behind China's green transition?
Ecological civilization is pivotal to the sustainable development of the country. Since the 18th National Congress of the Communist Party of China, the central government, under the leadership of Chinese President Xi Jinping, has taken measures to press ahead with the ecological civilization program, and supporting green development nationwide.
In 2013, by implementing the Action Plan on the Prevention of Air Pollution, China became the first developing country to curb PM2.5 pollution on a massive scale. The 13th Five-Year Plan released in November 2016 included China's major environmental protection goals to reduce coal production by 140 million tons by 2020.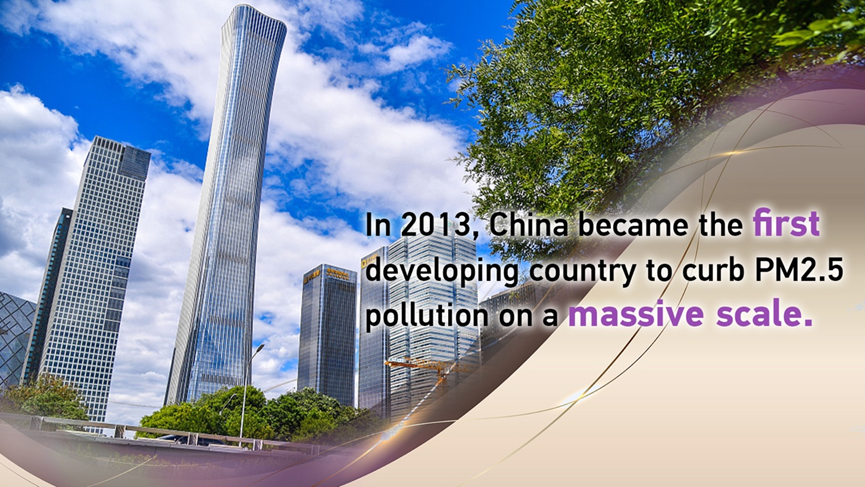 In March 2018, the "ecological civilization" concept was written into the national Constitution. The Ministry of Ecology and Environment and the Ministry of Natural Resources were established to take charge of China's environmental governance and ecological protection efforts.
The change is of historical significance. While maintaining miracles of long-term social stability and an economic growth that has rarely been seen in human history, China has achieved spectacular accomplishments with its green development, adding a green factor to lift the quality of the country's campaign to build a moderately prosperous society in all respects.
The average concentration of PM2.5 in cities at the prefecture level and above decreased by 34.8 percent from 2015 to 2021. The number of days with heavy pollution reduced by 53.6 percent in the same time frame. Additionally, blue skies and clear water are becoming the new normal for the country.
The drop in China's energy intensity is among the fastest in the world, which is estimated to have fallen by 26.2 percent cumulatively between 2012 and 2021. In 2021, China's coal use plunged to around 56 percent of its total energy consumption, and the share of clean energy in its energy mix rose to 25.5 percent.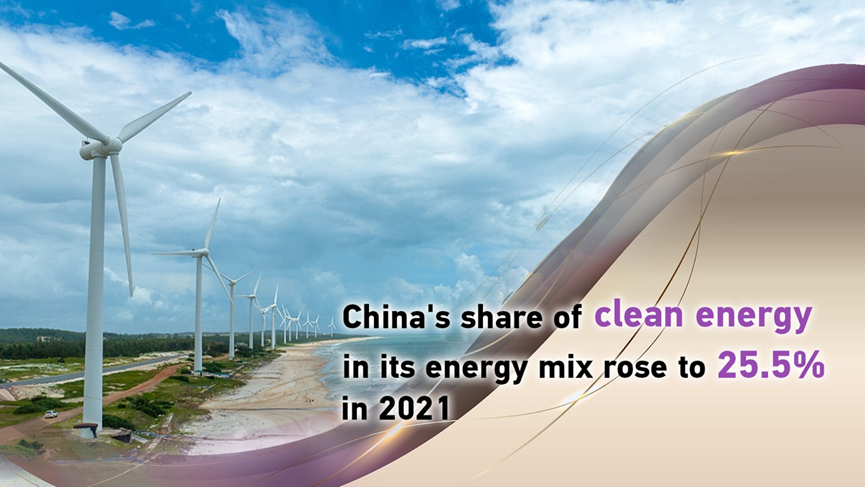 The installed and generation capacities of wind and photovoltaic power in China ranked first globally in 2021, as well as its production and sales of new-energy vehicles. The country's forest coverage and forest reserves have both increased for the last 30 years. A quarter of the world's newly-built green spaces in the period between 2000 and 2017 were in China.
The country's Saihanba Forest Farm and Green Rural Revival Program in Zhejiang Province both won the UN's Champions of the Earth Award.
For many years, China's development of an ecological civilization has been based on its adherence to the leadership of the Communist Party of China in ecological protection, the Xi Jinping Thought on Ecological Civilization, the principles of putting people first, the path of green development, the strictest regulations and most sophisticated laws in environmental protection, the protection and systematic governance of mountains, rivers, forests, farmlands, lakes and grasslands as a whole, and the cooperation with other countries in building ecological civilization globally. All of this is valuable to China's ecological civilization endeavours and Beautiful China campaign.
Ecological civilization is a historical trend of the development of human civilizations. Setting out on a new journey toward building a modern socialist country and realizing its Second Centenary Goal, China will remain committed to the harmonious co-existence between human and nature, promoting low-carbon green growth, tackling pollution, and accelerating the modernization of the environmental governance system and capabilities. Efforts will also be made to level up environmental protections in order to drive high-quality development, create quality life for the people, increase people's wealth, bolster national strength and make China ever more beautiful.
Human beings share a common future in the face of rising ecological and environmental challenges. While managing its own ecological environment, China implements the Convention on Biological Diversity and its protocols, providing support and assistance for other developing countries to reinforce their environmental and biodiversity protection capabilities through the multilateral cooperation mechanism under the Belt and Road Initiative and boosting South-South cooperation.
By the end of 2020, China had signed about 150 cooperation documents for environmental protections with more than 60 countries and international and regional organizations, as well as signed or joined more than 50 international conventions and protocols related to the ecological environment.
The Earth is the only place where all people call it home, and building a green home is a shared goal of nations. China will hold fast to the ecological civilization concept and multilateralism, strive to promote the development of a fair, reasonable and win-win global environmental governance system, join hands with other countries to build a shared future for all life on earth and a clean and beautiful world, and contribute China's wisdom and plan to global environmental governance.
(Contributed by Yu Hai, Deputy Director of the Research Center for Xi Jinping Thought on Ecological Civilization.)
Link to publication on CGTN Opinions: https://news.cgtn.com/news/2022-09-23/Deciphering-China-s-green-growth-miracle-1dyiCR83SbS/index.html