A resilient Chinese economy supports the Chinese path to modernization
Editor's note: China has clearly demonstrated its development blueprint for the next five years at the 20th National Congress of Communist Party of China held in October, 2022. To further elucidate the plan to the world, CGTN has created the "China Blueprint: Opportunities for the World" series. This is the fourth piece focusing on Chinese path to modernization.
Since the 18th Communist Party of China (CPC) National Congress in 2012, socialism with Chinese characteristics has entered a new era. In the first decade of the new era, China has proposed and applied the new development philosophy and focused on promoting high-quality development. In this process, China has seen historic rise in economic strength. China's success in high-quality economic development underpins and widens the Chinese path to modernization, and puts China on a new journey of building a modern socialist country in all respects.
Economic achievements that will go down in history as a success story
China's economy grew from 54 trillion Chinese yuan (about $7.39 trillion) in 2012 to 114 trillion yuan (about $15.6 trillion) in 2021, with its share of the world economy rising from 11.3 percent to 18.5 percent. China's GDP per capita rose from $6,300 to over $12,000, surpassing the world's GDP per capita. As the world's top manufacturing powerhouse, the added value of China's manufacturing industry increased from 17 trillion yuan (about $2.33 trillion) to 31.4 trillion yuan (about $4.3 trillion), rising to nearly 30 percent of the world's total from 22.5 percent.
From 2017 to 2021, China maintained its position as the world's top trading country in goods for five consecutive years. Over the past decade, China has won the largest battle against poverty in human history, with all 832 poverty-stricken counties in China being lifted out of poverty. Nearly 100 million rural poor people by current standards have walked out of poverty, and more than 9.6 million poor people have been relocated to easy-to-reach areas. China has made historic achievements in solving the problem of absolute poverty, making significant contributions to global poverty reduction.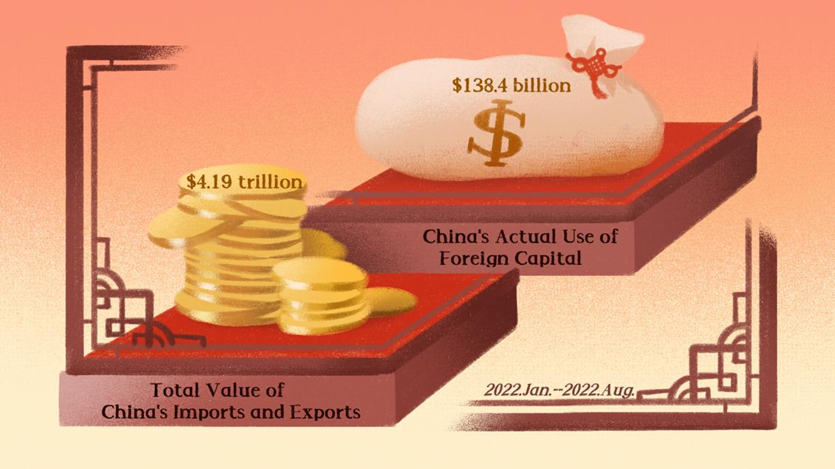 Achieving high-quality development of China's economy
In the first decade of the new era, China has fully and faithfully applied the new development philosophy on all fronts and made efforts to promote high-quality economic development. With innovation as the primary driving force for development and extensive measures taken for implementing the innovation-driven development strategy, new achievements have been made in innovation-driven development, and major progress has been made in building an innovative country. According to the World Intellectual Property Organization (WIPO) Global Innovation Index 2021, China climbed to 12th place in 2021 from 34th in 2012.
China adheres to the concept that lucid waters and lush mountains are invaluable assets. Building a beautiful China has become a major national policy, with historic changes in environmental protection endeavors. In 2021, China's energy consumption per unit of gross domestic product (GDP) was 26.4 percent lower than in 2012, with an average annual decline of 3.3 percent. China also attaches great importance to the concept of shared development, so that the fruits of development can benefit all people in a fairer way. By eliminating absolute poverty, China has built a moderately prosperous society in all respects and improved the lives of the Chinese people on all fronts.
Building a resilient economic system
In an increasingly fluid and changing world, China's economic development in the new era has experienced frequent external shocks. In the aftermath of the 2008 global financial crisis, a series of major events such as the China-U.S. trade frictions that began in 2018, the outbreak of COVID-19 pandemic in 2020 that continues to this day, and the Russia-Ukraine conflict in 2022 have caused new and sustained shocks to the Chinese economy. Nevertheless, in the face of rising uncertainties caused by frequent external shocks, China's economy has demonstrated strong resilience, thanks to its complete industrial systems, abundant human resources, convenient infrastructures, strong domestic market and massive market dynamism, thereby providing a strong impetus to world economic growth.
From 2013 to 2021, China's average contribution to global economic growth exceeds 30 percent, ranking first across the world. Despite the pandemic impact, China's economy has continued to show strong resilience and dynamism. The year 2020 saw China's GDP grow by 2.3 percent, making it the only major economy in the world to achieve positive growth under the pandemic. China's GDP grew by 8.1 percent in 2021, continuing to be among the best-performing major economies.
Even amid global economic slowdown and subdued recovery this year, China's economy remains a bright spot. On top of last year's high growth rate of 30 percent, China's foreign trade has also seen considerable increase this year. In U.S. dollar terms, from January to August this year, the total value of China's imports and exports was $4.19 trillion, up 9.5 percent year-on-year (YoY); China's actual use of foreign capital reached $138.4 billion, up 20.2 percent YoY. This is a good indication that foreign investors continue to be bullish on the Chinese market. With the support of a resilient economic system, the fundamentals sustaining China's long-term sound development will stay unchanged.
In his report to the 20th CPC National Congress, Xi Jinping, general secretary of the CPC Central Committee, pointed out that the essential elements of the Chinese path to modernization include socialism with Chinese characteristics, pursuing high-quality development, and achieving common prosperity for all.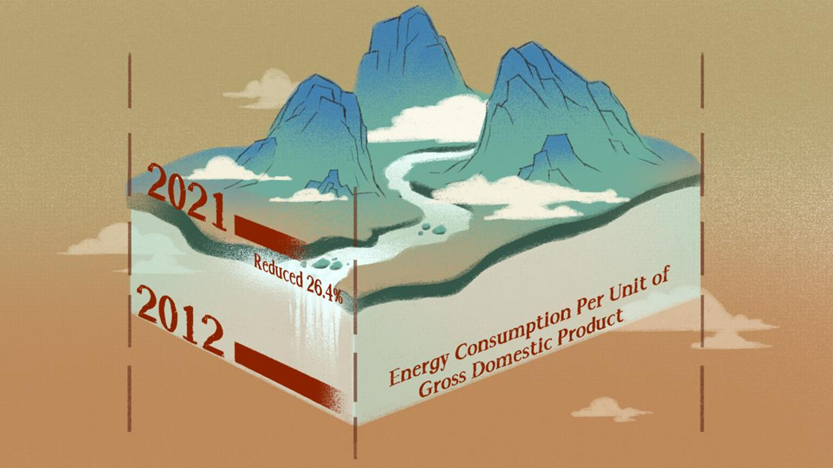 China's admirable practice of high-quality economic development has been underpinning and widening the Chinese path to modernization. With its two major miracles of rapid economic development and long-term social stability, China has proved to the world that it has successfully carved out a path to modernization. This path is opened based on China's national realities and will go down in history as a right choice made for the people. It embodies the confidence of the Chinese people in embarking on the path to socialist modernization, and it also testifies to the theoretical and practical wisdom accumulated by the Chinese people for realizing the great rejuvenation of the Chinese nation.
(Contributed by Huang Qunhui, research fellow and director of the Institute of Economics at the Chinese Academy of Social Sciences; Tang Doduo, research fellow and head of Macroeconomics Section of the Institute of Economics at the Chinese Academy of Social Sciences.)
(If you want to contribute and have specific expertise, please contact us at opinions@cgtn.com. Follow @thouse_opinions on Twitter to discover the latest commentaries in the CGTN Opinion Section.)